About the Centre for Native Title Anthropology (CNTA)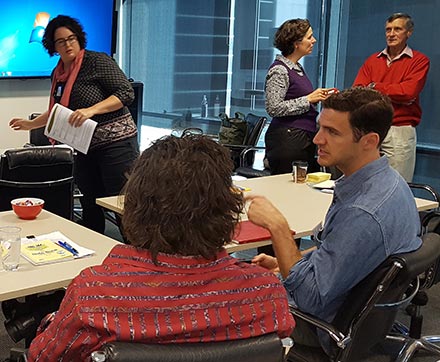 The CNTA is a unit within the School of Archaeology and Anthropology in the College of the Arts and Social Sciences at the Australian National University. CNTA has been awarded successive grants since 2010 by the Department of the Attorney General to deliver professional development to anthropologists working in the native title arena.

CNTA now has two Directors. From July 1 2021, Adjunct Professor David Trigger of the University of Western Australia has replaced the original Director Professor Nicolas Peterson. Professor Peterson nonetheless continues his association with the Centre, and remains the formal grantee of funding from the Attorney General's Department.
In considering how best to support CNTA's constituency, given the range of increasing challenges to the practice of anthropology, CNTA has appointed a second director, not least to acknowledge the many women anthropologists and researchers now working in the native title sector.
CNTA would like to welcome Ms Petronella Vaarzon-Morel as CNTA co-director with Professor Emeritus David Trigger.
Petronella's anthropological experience as a teacher, fieldworker and academic, will make a positive contribution to CNTA's capacity to support anthropologists in meeting emerging challenges in native title research environments.

ANU Research Fellow Dr Julie Finlayson continues her responsibility for the program content and activities of the Centre..
The sector encompasses primarily anthropologists employed by Native Title Representative Bodies (NTRBs) and Native Title Service Providers (NTSPs), as well as consultant anthropologists working in the Native Title arena.
CNTA is funded to deliver activities across 3 year periods. Our activities for 2019-22 were to comprise the following:
A 3-week Guided Research and Writing Program based on residence at the ANU and supervision and advice provided by the CNTA Director, and the Research Fellow
An annual conference with guest speakers
Several post-determination technical workshops for specific clients
Targeted cohort workshops
Due to the ongoing Covid-19 pandemic, and the difficulties measures such as regional and state-wide lockdowns pose for workshops and other face-to-face delivery mechanisms, CNTA has been progressively developing and implementing online materials. These include sound and video recordings of virtual workshops, and specially commissioned pod and video casts on selective topics and themes relevant to the Centre's remit from the Department of the Attorney General.
This site has been created in order to provide greater flexibility in addressing the needs of anthropologists working in the native title arena. The original CNTA website, hosted on the ANU servers, covers the work undertaken by CNTA until early 2020.
Testimonials
Pascale Taplin, Research Manager, CYLC

I wanted to extend our thanks on behalf of the CYLC anthropology team for your presentation last week. My team has spoken of it several times since. We all learned different things and I think you pitched it just right for the audience.

Diane Smith, CAEPR

The podcasts give a great wealth of advice and expertise offered to up and coming (and older) anthropologists!

Joyce Gehr, CYLC

The workshops have been great! Definitely a highlight during this time. We were all really glad we could have them virtually. Having them spread out has also allowed the team to contemplate and consider ideas and have deeper discussions that might not have happened over a 2 day conference due to speaker saturation

Premila Foster, CLC

I highly recommend a guided Writing and Research placement to any new or experienced anthropologist who wants to inform their own practice and make sense of what they are doing from a wider academic standpoint.

Courtney Boag, First Nations Legal & Research Services

Thank you for facilitating and fostering such a close and likeminded community of anthropologists, it's lovely to be a part of something like the CNTA.

Jodi Neale, Consultant Anthropologist

Just wanted to say that the Soundcloud innovation making all these presentations available to those off-site and online, as well as into the future is really great.

AnnMarie Volpe, CYLC

I've really enjoyed the CNTA virtual workshops, and I will definitely be keen to participate in future things online.