About the Centre for Native Title Anthropology (CNTA)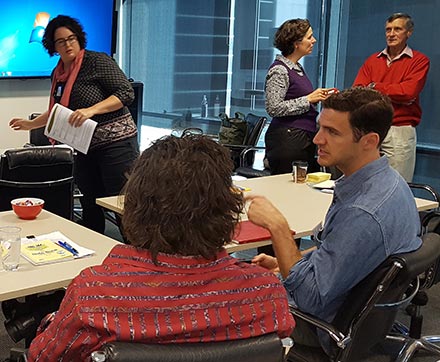 The CNTA is a unit within the School of Archaeology and Anthropology in the College of the Arts and Social Sciences at the Australian National University in Canberra. It is funded from an Australian Government grant program through the Department of the Attorney General to deliver professional development to anthropologists working in the native title arena.
CNTA's Director is Emeritus Professor Nicolas Peterson, and the Research Fellow is Dr Julie Finlayson.
The sector encompasses primarily anthropologists employed by Native Title Representative Bodies (NTRBs) and Native Title Service Providers (NTSPs), as well as consultant anthropologists working as in native title.
CNTA is funded to deliver activities across 3 year periods. Our activities for 2019-22 were to comprise the following:
A 3-week Guided Research and Writing Program based on residence at the ANU and supervision and advice provided by the CNTA Director, and the Research Fellow
An annual conference with guest speakers
Several post-determination technical workshops for specific clients
Targeted cohort workshops
However, due to the pandemic we have had to re-invent delivery modes to online and virtual formats whilst special measures last.
This site has been created in order to provide greater flexibility in addressing the needs of anthropologists working in the native title arena. The
original CNTA website, hosted on the ANU servers, covers the work undertaken by CNTA until early 2020.
Pascale Taplin, Research Manager, CYLC

I wanted to extend our thanks on behalf of the CYLC anthropology team for your presentation last week. My team has spoken of it several times since. We all learned different things and I think you pitched it just right for the audience.

AnnMarie Volpe, CYLC

I've really enjoyed the CNTA virtual workshops, and I will definitely be keen to participate in future things online.

Joyce Gehr, CYLC

The workshops have been great! Definitely a highlight during this time. We were all really glad we could have them virtually. Having them spread out has also allowed the team to contemplate and consider ideas and have deeper discussions that might not have happened over a 2 day conference due to speaker saturation